The Dynamic Giving Toolkit
You can experience a spiritual transformation in your church. Learn how to lead your church in a biblical church stewardship campaign that will transform your congregation. Pastor Rogers' program will lead you step by step, with the digital, multimedia, Dynamic Giving Toolkit which includes the following stewardship materials:
👉 eBook: Pastor Driven Stewardship: 10 Steps to Lead Your Church to Biblical Giving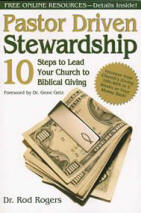 Pastor Driven Stewardship is a 286-page book contains everything you need to know to transform your church's giving, laid out in specific, easy-to-implement, detail. This is not just a book of theory, like most stewardship books out there!
This is a practical manual that you can put to work in your church immediately. It's loaded with timesaving, proven sample letters, commitment/pledge cards, estimate-of-giving cards, sermons, and sermon outlines.
👉 Printable resources
Includes the entire Pastor Driven Stewardship book in MS Word & PDF file formats with sermons and ready-to-print study outlines. Just copy and paste anything from the book into your word processor, easily edit it to fit your style, print, and you're ready to go.

stewardship pledge cards,
follow-up letters,
estimate-of-giving cards,
sermons, etc.

Also includes two Student Manuals for the stewardship workshops from Moody's Pastors' Conference. Print these fill-in-the-blank Student Manuals for use in personal or group stewardship training.
👉 7 Audio files:
These audio files are powerful tools for learning how to lead your people in this vital area of financial stewardship.
Overcoming Ministerial Myths about Money & Ministry, a stewardship workshop from Moody Bible Institute's 2008 Pastors' Conference.
Leading Your Church to Dynamic Giving, a stewardship workshop from Moody Bible Institute's 2008 Pastors' Conference.
A 43-minute overview of the 10-step Dynamic Giving System. This is great for getting a quick idea of what's involved in the System; and it's also perfect for playing at board or staff meetings to rally support from your key leaders for your new stewardship approach.
4 audio files with the complete, 4-week, stewardship series Taking the Stew Out of Stewardship. Each audio sermon is clearly presented and full of Scripture and great illustrations. The audio sermons correlate with the ready-to-preach printed sermons in the Pastor Driven Stewardship ebook. You can be totally confident these expository sermons will work for you because Rod wrote and preached these messages in his own church, which saw annual increases in giving of nearly 24% each year for 5 years.
👉 1 Video File
A copy of the TBN TV interview with Dr. Rogers on biblical stewardship.
* * *
Are you ready to lead a church stewardship program and
increase church giving 10 to 30%, for only $299?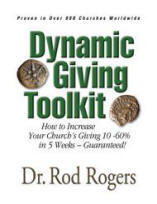 Purchase the Dynamic Giving Toolkit Today